"Adelante, pilgrim! – Walking in the style of Ignatius"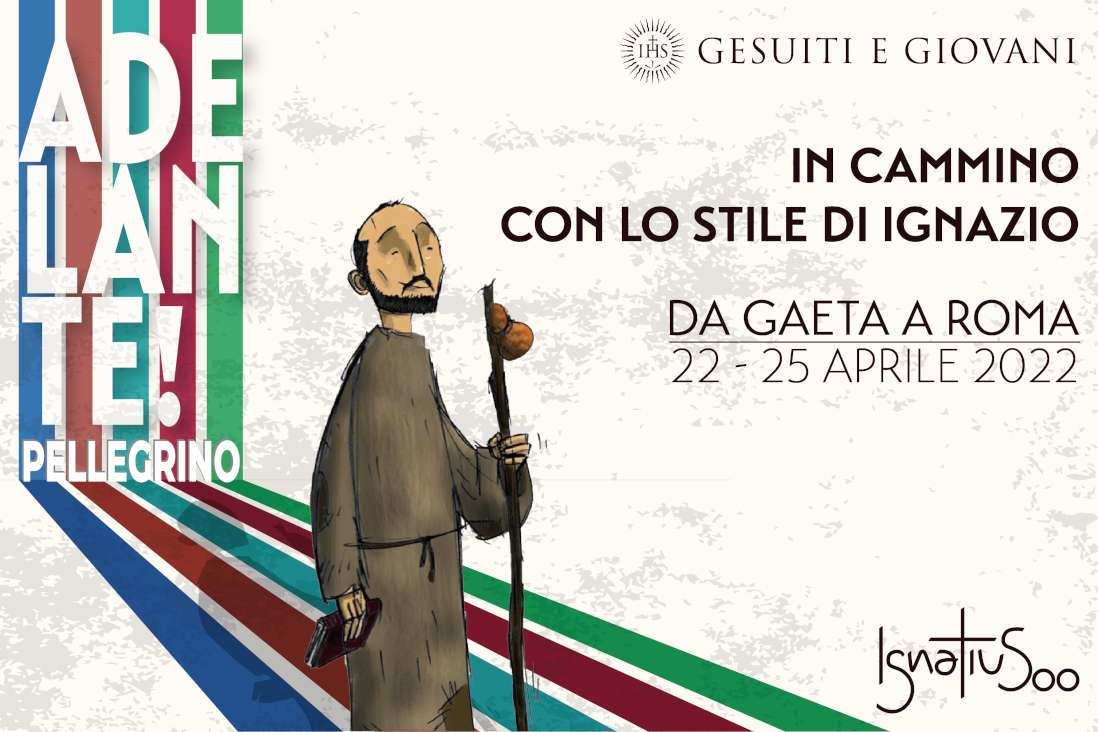 A pilgrimage in three stages is taking place from Formia to Rome, between 22 and 25 April, retracing the steps of Ignatius, who landed in Gaeta, near Formia on his first journey to Italy. It was proposed by the same young people, who met Fr. Sosa in May 2021 at the launching of the Ignatian Year.
An initiative that developed through listening to young people
"On May 30th, we asked ourselves" Fr. Marco Colò, EUM coordinator of the initiatives for the 500th anniversary of the conversion of St. Ignatius explains "how can we start again after the wounds we suffer in life, how can we make use of discernment to restore order to our priorities, how can we allow our lives to be transformed when we encounter the imarginated, how can we maintain a contemplative attitude in daily life".
The dialogue with Father General was intended as an occasion for young people to explicitly make requests to the Society, so that it may support them in a better way on their journey of formation towards adulthood. "They asked for a wider availability of the resources of Ignatian spirituality, from a very young age, for more emphasis to be given to formation programs on the integration of the interior life and action, and to help them in dealing with issues related to the ecological and world crisis".
Both in the preparation phase and in its development, they asked to be able to carry out an authentic pilgrimage on foot, in the footsteps of St. Ignatius". This is how the initiative "Adelante, pilgrim! – Walking in the style of Ignatius" began.
The objectives
"It is responding to the desire of young people to step out of their own groups to meet other young people, with a view to mutual enrichment. They are in fact grateful for the good they receive from the apostolic reality to which they belong, but at the same time they feel that something is missing. We also want to restore a healthy space, after this pandemic period marked by great limitations of movement and relationships.
Again, we are in a world in need of being regenerated. If we really set our minds to it, we are moving towards a new epoch. So, we are asking ourselves: how can we live with enthusiasm and hope as young people during this transition of an epoch marked by great uncertainty and serious threats to peace and to the life of the Planet?"
The program
"It is a pilgrimage and therefore, primarily, we walk. The journey is already a good tool for acquiring spiritual experience to put our character to the test, to confront our limits, to reduce ourselves to what is essential to allow us to discover the support of travelling companions and of the travelling Partner, who is God."
The journey covers three stages – Formia / Fondi, Velletri / Pavona, Appia Antica – of about 20km per day, and a question to reflect upon during each stage will be distributed. This will lead to times of prayer and sharing:
– how can one become an innovator in this world? This is all about the theme of leadership. Faced with the uncertainties of this era, a young person either retires – and we know that depression, which has increased during the pandemic, is prevalent among youth during the present times – or sets out to reform society. Ignatius the Reformer can be our guide. And Laudato si and Fratelli Tutti are also important indicators.
– How can one find God in every situation? Here we are at the heart of Ignatian spirituality. And yet there seems to be always someone who finds what this really means amusing. For example, you learn to find God in all things if you celebrate with your brothers and sisters and are accustomed to spending time on the Word.
– What type of church do we dream of? Ignatius was a natural lover of the church, as he was aware that from the church, he received the greatest gift: faith. Even if the Church put him to the test, this love has always remained alive and strong in him. Finally, he has been a renovator of the Church.
The Provincial, Fr. Roberto Del Riccio will walk and dialogue with the youth. During each stage they will be meeting other witnesses, religious and laity. The pilgrimage, open to a maximum of 100 young people, will conclude on 25 April in the afternoon with the celebration of mass in the church of St. Ignatius in Rome.
For further information please contact iy.youth@gesuiti.it