Dante and theology in 35 short films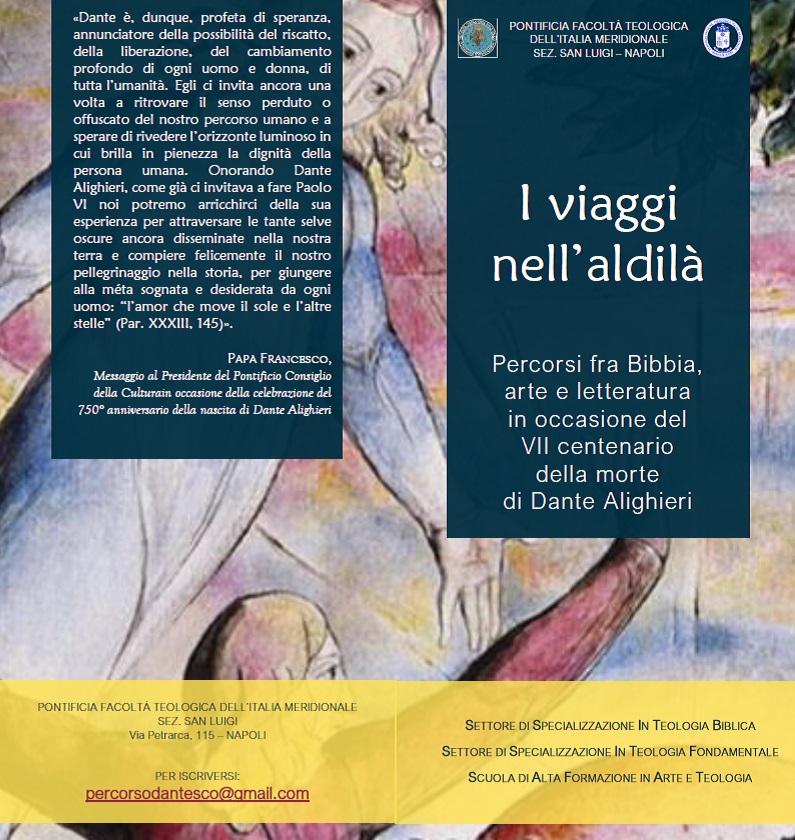 The initiative for high school students, promoted by the San Luigi Section of the Faculty of Theology in Naples A total of ten online meetings offered to a wide audience, on the theme of "journeys to the afterlife".
"Getting to the very core of a subject and experiencing that I have fully understood it." This is how Giorgia, one of the students of the Liceo Classico-Scientifico Euclide in Cagliari, author of a short film on the character of Jerion, describes the project "Dante's path, between the journey to afterlife and the journey through life". One of the 10 online meetings promoted by the Faculty of Theology, Section San Luigi, in Naples, for the centenary of Dante. Fr. Carlo Manunza explains: "an attempt to do research involving a cross-section audience, from High Schools to Universities".
An important opening, suggested by Pope Francis himself, in 2019, in Posillipo, at the Conference on the reform of ecclesiastical studies "so that science may be an activity serving a "Truth-as-person", to be encountered, and not only discovered, through and within people and events of life. In such a way it will truly serve the journey together of all humanity towards a civilization of love".
An attempt to read Dante's masterpiece from an initiatic perspective. The work is really the evidence of a journey towards the discovery of beauty and of the liberating power of the relationship with God. The scientific research of the specialists was thus complemented by the work of the students, in team with the teachers, who participated. Thirty-five short films were produced by the students, who freely chose, read and interpreted some passages from the work, capturing their dialogue with their own lives.
In the two meetings offered, the focus was on the progress of human freedom – from slavery in Hell, to fullness in Paradise – and on the role of a guide in personal development.
The "online bridge" between Sardinia, Rome and Naples was attended by an average of 210 participants from five institutions: The S. Luigi Section, of the Theological Faculty in Naples; the Theological Faculty, in Cagliari; the University "La Sapienza", in Rome; the Euclide High School, in Cagliari and the High School, in Tortolì. It was a first experiment for theology to become a real conversation about God, which does not elude being a sharing of the speaker's experience of God, and of his dialogue with Him. "A service to discernment, beginning at school."