Deacons to love and serve: 12 recount their calling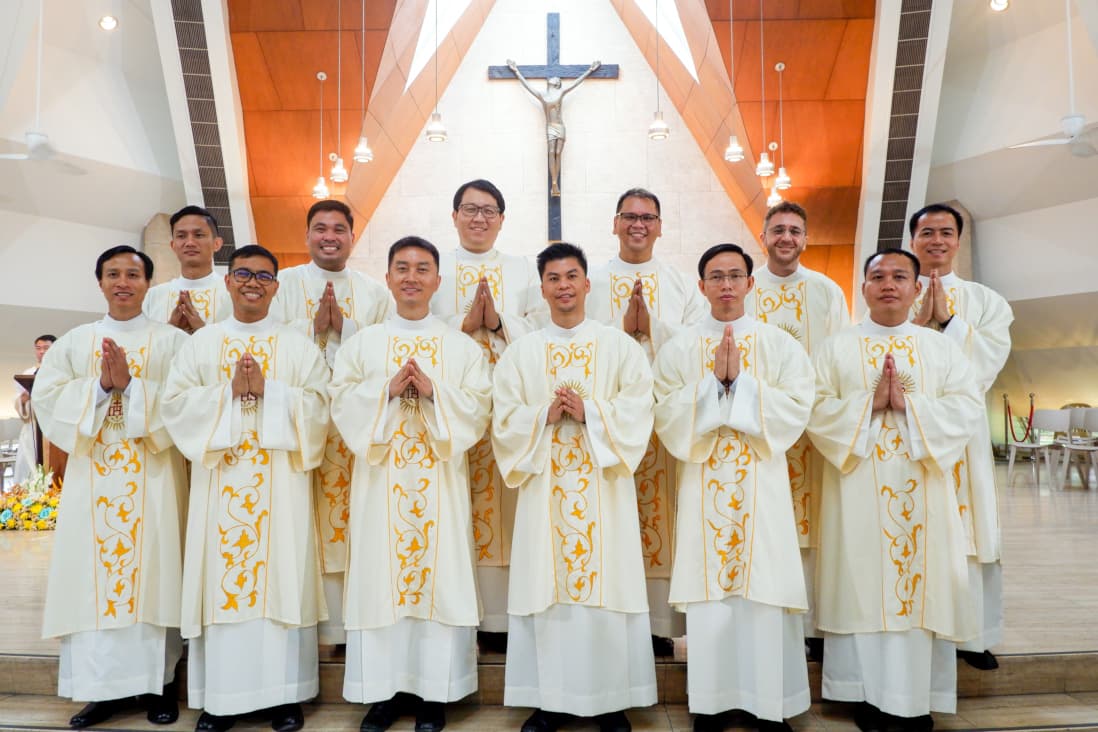 Read the stories and testimonies of 12 new deacons ordained on October 14 in Manila.
"God meets us where we are and awaits our response," Peter from Myanmar, one of 12 young deacons ordained on October 14 in Manila says. "I grew up in a very violent context in Myanmar and it was in this condition that I felt the call to do something for the people of my country. Of course, it is difficult, but I also feel there is hope in being part of God's mission of salvation."
"We are companions of sinners. This is why I love being a Jesuit," Richard adds. " We are called not only with our gifts and talents but also with our weaknesses and doubts, to participate in community and share His love."
"Living in an international residence with so many other fellow travellers has been a pivotal experience for me and my religious identity," Justin from Thailand highlights.
Joseph describes his vocation in three words: "hope that helps me communicate with others, listening that allows me to understand people, myself and what God wants. The responsibility that connects me to the community and allows me to grow in my vocation as a Jesuit. And I also add the generosity that allows me to give myself completely to the mission."
"I understood that my calling was to religious life only upon entering the novitiate. There I discovered the beauty of prayer, service and community," Rob, a Maltese says. "Prayer, the foundation of our actions. Community as a space to rejoice and share what we experience. Service by giving one's life for others, which then makes it all worthwhile."
"What I love most about the Jesuits is this unity in diversity, the welcoming of each in his uniqueness," Gabriel, from China explains, "in the same Spirit, which unites our minds and hearts."
"My vocation? A journey to discover God in all things," Erwin from the Philippines explains. "To experience him beside me at all moments, his courage, his strength to do what is thought to be impossible. I hope that others, through my ministry, can find God, celebrate him and experience him personally in their lives."
Also from the Philippines, Jeffrey advises young people who want to enter seminary to "first have an experience of service accompanying others, to feel their needs and difficulties, to avoid the risk of self-centredness, to learn to feel with the heart and respond with charity, which is then the meaning of our being human."
"One of the most beautiful experiences for me has been teaching students, exploring whether faith is really that important to them, and collaborating with lay people," Kenzlee says.
Regarding formation, Tu from Vietnam says: "the Society of Jesus wants each of us to grow in personality, community, spirituality, intellect and mission. It follows and accompanies this formation process, giving me time to become truly free."
Vincent from Vietnam is now on mission in Myanmar: "The Society of Jesus is the way through which I walk to fulfil my vocation. I love volleyball. Using a metaphor, I would say God passes the ball, the Society sets it and I plunge."
"In this beautiful and challenging journey," concludes Joon Min from Korea, "we know that we are accompanied at all moments and not only during the positive ones and that we can share the way with our brothers."
These are different backgrounds and origins for the same calling, for which God gives grace.
Watch the ordination on YouTube: