This is a weekly diary from Piero Loredan SJ in Bucharest, accompanying the Ukrainian refugees.
"I arrived in Romania in July 2020 to undergo an experience in giving serving as part of my formation journey. I started with the Spiritual Exercises and the Youth Apostolate. Then Covid-19 broke out followed by the thousands of refugees fleeing the war. This conflict has also changed the purpose of my presence: now the Jesuit Refugee Service of Bucharest is the core of my activity".
9 June – Signs of rebirth
Among the various shimmers of light at JRS, glows the wonderful testimony of young Ukrainian women working to help other refugees in return: a situation of suffering, loneliness and uncertainty is brightened up by small gestures of solidarity in a cheerful and bright community atmosphere.
Their support is vital. From simple and basic activities such as putting together donated goods and products for distribution, to acting as English-Russian/Ukrainian interpreters, their contribution is enormous. Above all, the task of interpreting is of immeasurable value: it does not only serve as an assistance to understanding the language (many refugees do not speak Ukrainian), but above all it brings human beings very close to each other.
For many refugees, being welcomed at the centre by people of their own nationality, of their own language, is a primary sign of proximity.
19 Mary – The Future, Education and Integration
How not to lose sight of the future of the little ones?
Education is fundamentally important to ensure the future of the many refugee children and adolescents. With this in mind, JRS is working withPlan International on a project to provide the youngest Ukrainian refugees with a safe, inclusive and quality education that supports their psychosocial wellbeing and that of their families.
The project "SIERCAR– The Safe and Inclusive Education for Refugee Children and Adolescents in Romania"responds to the immediate educational needs of the children by creating temporary and long-term learning spaces, facilitates the integration of Ukrainian children into the Romanian school system through the collaboration and involvement of the Romanian government, including the distribution of tablets to support education.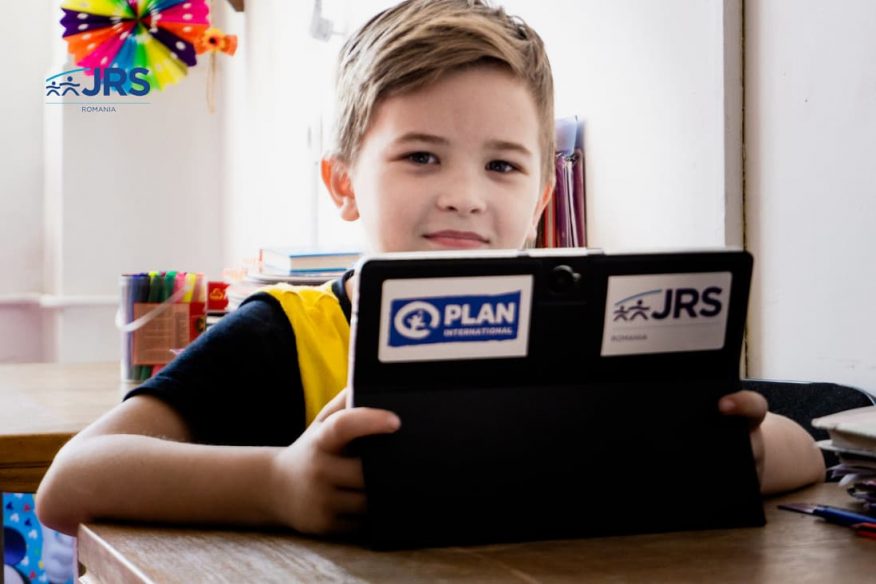 6 May – The Meeting
Natasha and Ksenia, together with their two little ones, were the first people I accompanied from the JRS facility to a flat which a generous family in Bucharest made available to them.
More than a month after their arrival, I went to visit them.
While Ksenia and her baby had left after a few days for Germany at the invitation of a friend, Natasha and her baby Dimitri remained in the Romanian capital.
Over an excellent meal of Sarmale – which is a traditional dish for all Romanians and, I was happy to discover, for Ukrainians as well – Natasha told me about her first time in Bucharest, the possibility of working online for her company in Odessa, her worries about family members living in Belarus and the generosity of the Romanians she met. Apparently, wherever she goes she receives offers of help, sometimes perhaps even a little too insistent. She still doesn't speak Romanian, but at least she is pleased to see the improvement in her English. One minor inconvenience was an awkward night-time raid on the flat by the police, probably to check their and their hosts' 'regularity'. Nevertheless, the optimistic dream of a return to her native Odessa remains.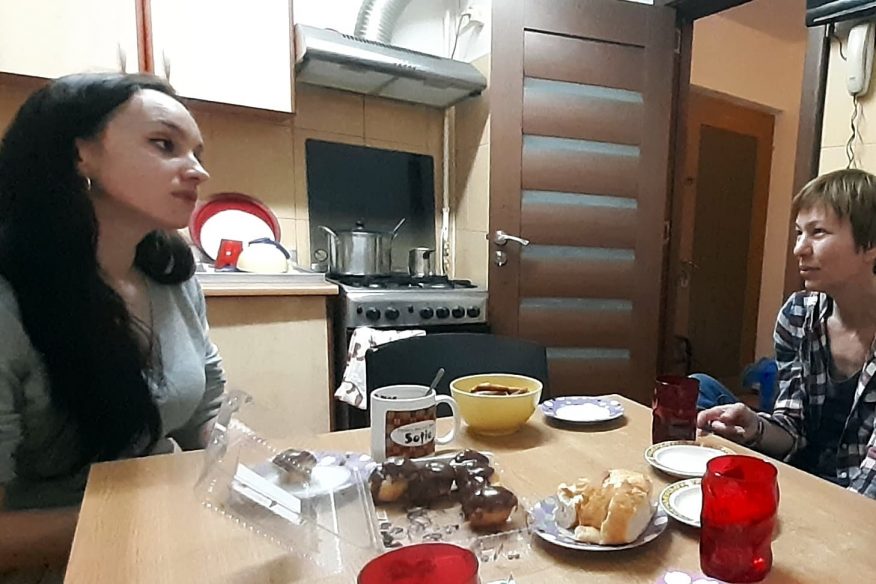 3 May – Exercises in Daily Life and diapers
The hall of the Arrupe Center, besides hosting the JRS offices during the day, a few evenings a week becomes a lively meeting place for the activities of the Jesuits in Bucharest. One of these was the organization of Advent Exercises in Daily Life.
In a setting made more colorful by masses of piled up diapers – donated to meet the pressing needs of the youngest refugees – the Wednesday evening group met for a Mass and a time of prayer.
Needless to say, the overall atmosphere benefited greatly.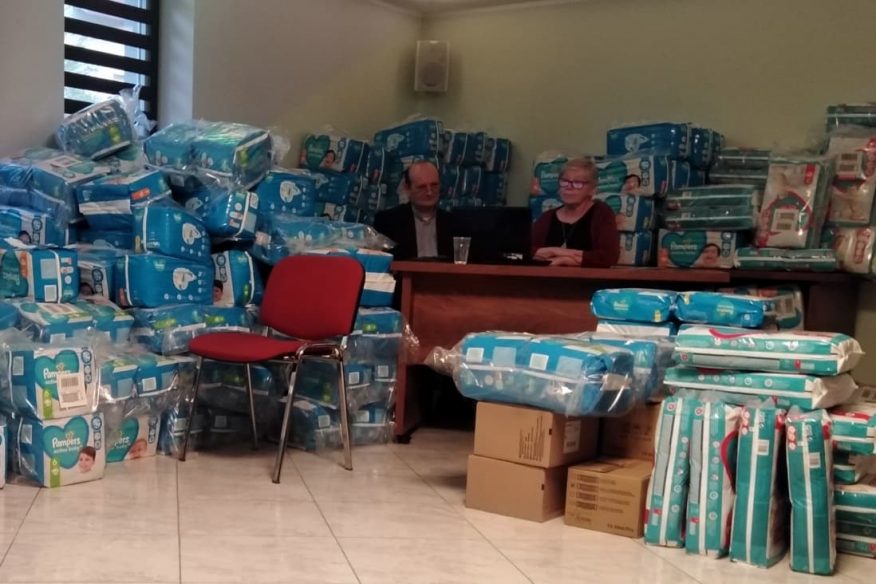 28 April – A little help
About two months after the outbreak of war, it was vital to organise ourselves to meet the needs of Ukrainian refugees during their process of integration, an important dimension in the face of the increasing possibility of a long stay in a foreign country.
Language courses, legal assistance, recreational activities are therefore increasingly necessary.
However, it remains imperative to meet their most important needs. For this reason, since the beginning of the crisis, a small centre has been set up in the JRS Offices where basic necessities such as foodstuffs, personal hygiene products, nappies, etc. can be donated.
In addition, there are certain days when, upon presentation of their identity documents, these refugees are given small sums of money, according to the number of persons of each household. This is a small assistance for their everyday needs.
21 April – Moments of relief
At JRS we are well aware that nothing we can offer, plan or do can erase suffering and restore life to normality. However, it is always possible to try to alleviate human pain. And in the smile of children, who in their innocence can find joy in everything, even mothers can experience a moment of consolation.
It is a joy to see the happy moments experienced by mothers together with their children during a morning organised by JRS at the Bucharest swimming pools.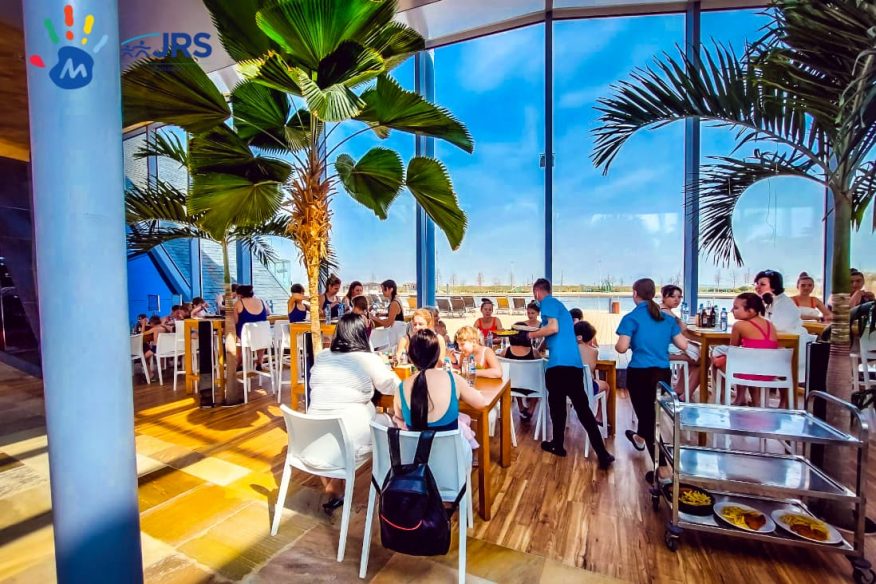 15 April – Easter hope
Today as never before, celebrating the true meaning of Easter opens up horizons of hope for all of us. Even a small gesture, a decoration, a cheerful moment can remind us of Easter joy or at least bring rays of light into a child's heart.
With the contribution of the Magic Association, the young guests of JRS began to prepare themselves, experiencing moments of joy as they grappled with markers, colours, paper, glue and scissors.
14 April – Dreams and hopes
Abir and Aicha Ben Hamza, two Tunisian sisters, were medical students in Ukraine until war broke out. Having fled from Ukraine to Romania, they spent three nights at the JRS accommodation centre.
They appreciated greatly the help given, especially during this difficult time. So, they in turn committed themselves to support other Ukrainian refugees together with JRS.
It was not easy for them to arrive in a new country, leaving everything behind in Ukraine, including books and computers. But, above all, they were struck by the strength of Ukrainian women who – forced to leave their families – continue to face the difficulties of their life as refugees in a foreign country on their own, with great dignity.
Their future is uncertain: their medical course is at the centre of their concerns. They would like to continue studying medicine in Romania, where conditions are much better, but enrolling in Romanian universities has proved rather complicated.
Now they are searching for a scholarship at other medical universities in Europe to realise their future dream: to help others as doctors.
Click here to watch Abir and Aicha's video on Instagram
11 April – Solidarity from the other side of the world
The drama of war, the tragic suffering of innocent victims has raised the question in many of us: what can I do? JRS, too, receives requests and offers of assistance from everywhere: there are no obstacles or barriers for doing good.
Luiza, 25 years of age, came to Bucharest from Brazil as a volunteer. After graduating in law, she followed a master's degree in international law. After just two weeks at JRS she is already part of the team. Her dream of helping people, a simple dream but full of great responsibility, met the suffering of the dozens of Ukrainian refugees who made use of the centre.
8 April – Duty and pleasure
Dozens of Ukrainian refugees, young and old, guests of ours and of other institutions, spent a morning together at the JRS Arrupe Centre.
After a rich buffet of drinks and sweets – offered by some of our benefactors – JRS workers made themselves available as a point of reference for all their needs; they were then given essential legal information for their stay in Romania.
After listening attentively to grandmothers, mothers and aunts, it was now time for the little ones. The Centre's reception room was transformed into a small theatre stage. The show, organised by Magic – an association with whom we collaborate – offered moments of cheerfulness, laughter and bright smiles. For all of us, it was an extraordinary glimmer of light.
5 April – Small gifts
A JRS volunteer helps a girl to write her name on a list hanging on the wall. This is a programme organised for Ukrainians. Tomorrow, for those who wish, a day at the biopark has been organised for adults and children. This is free of charge, of course.
There are 26 employees at JRS Bucharest, 16 regular volunteers and several collaborators.
1 April – Further development
There are currently 57 refugees who have been welcomed. In addition to the floor, two other rooms were made available for the refugees, a playroom for children, and a room for other activities, including an Afro-Dance class every Wednesday.
The project was launched by Dorian, a refugee from Cameroon, who has been in Romania for two and a half years. With the outbreak of the conflict he wanted to give his free contribution to these families, remembering how important the passion for dance was for him as soon as he arrived in Romania, with all the difficulties of the situation. This initiative has been covered by CNN:
31 March – Providence
Thanks to the help of a donor, JRS was able to rent, from Tuesday 15 March, the entire floor of a hotel almost in the centre of Bucharest to house Ukrainian refugees who can now have both a private space comprising a personal room with bathroom and a community space. The corridor of the floor has become a real meeting place with tables and chairs. The project extends until the end of May.