The priestly ordination of Davide, Federico and Guido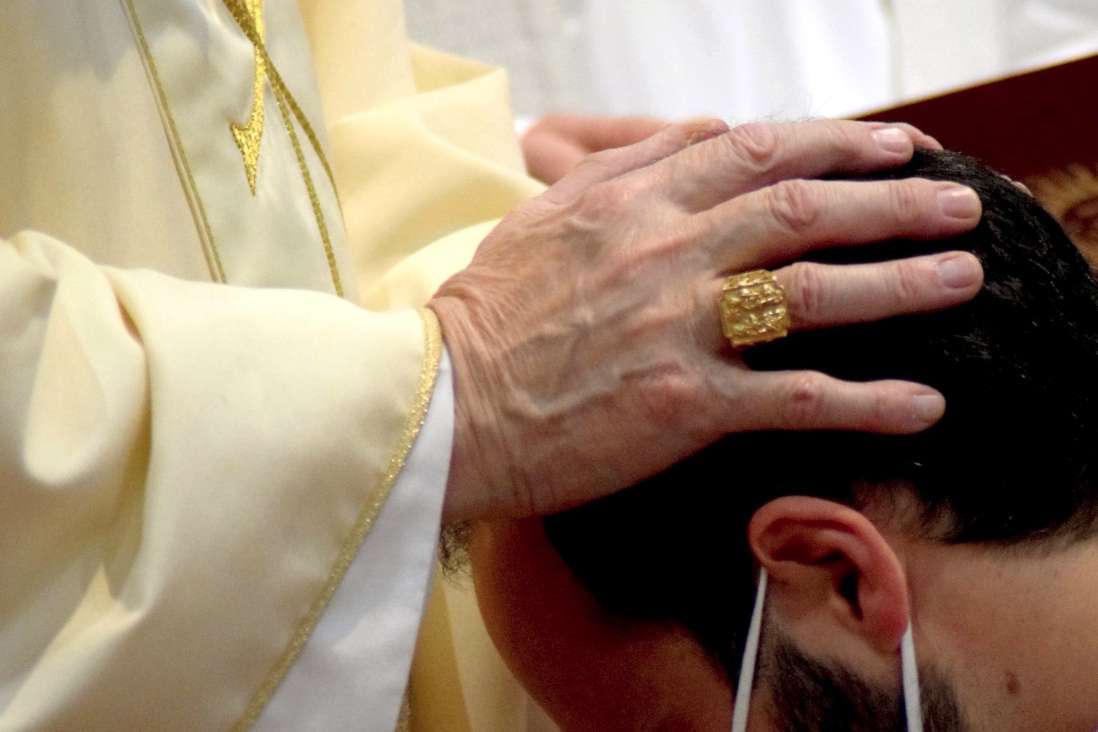 The celebration took place on Saturday 19 February at 3.30 pm in the Church of Sant'Ignazio in Rome. It was presided by Mons. Daniele Libanori SJ. You can watch it on YouTube.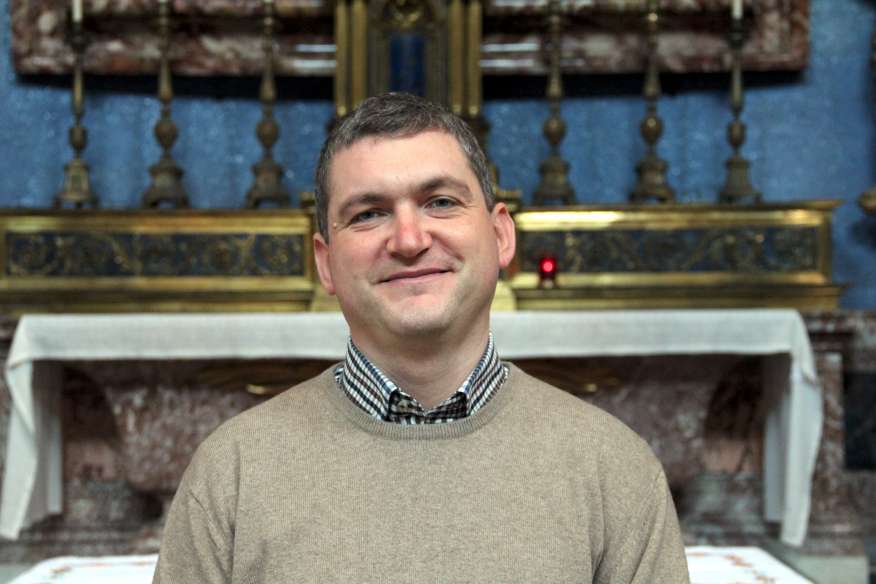 Davide is 41. He came in touch with the Society of Jesus in 2006, in Bologna, at the "Villa San Giuseppe" retreat house, during the time when he had finished his university studies in Computer Engineering. "I felt a strong and constant desire to respond to an experience of an encounter I had with God," he says, "which I was experiencing in a new way, after a few lukewarm years. I enjoyed contemplative prayer which I began to practice again regularly. It made me imagine my future life given to service, dedicated to making others aware of the gift of encountering the Lord.
I became aware that the lifestyle of the Society, its mission, the spirituality of the Exercises, were somewhat familiar with my experience of God and with my desire to respond to him". After a journey of deepening his experience and of vocation accompaniment, he joined the novitiate in 2010. Then he spent three years studying philosophy in Padua and then in Rome. His Regency and an experience of pastoral service followed: " he spent the first year in South Sudan, working with the Jesuit Refugee Service (JRS) as a teacher. Then he spent two years in Sicily, at the Gonzaga Institute in Palermo taking part in spiritual and education activities". In 2018 he was in Madrid studying theology and was ordained deacon. Last summer he returned to Rome where he continued his studies in Moral Theology and collaborated with the Astalli Center and MAGIS.
"In those days I became aware how much the Lord had worked in me during all these years, through so many people. I received a gift that carries great responsibility. But I can rejoice and feel I can continue to walk safely. The Lord is present and invites me to follow him".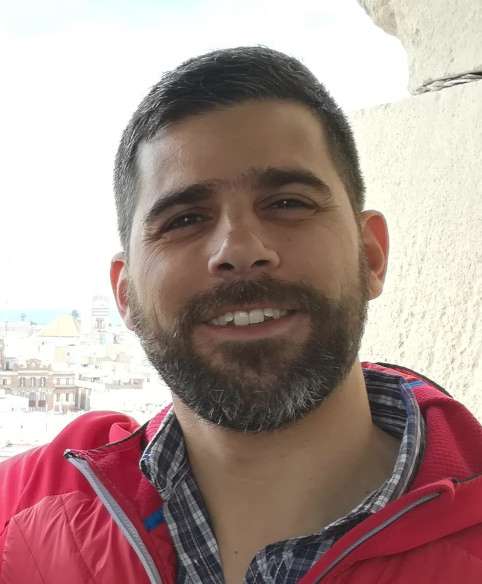 "I have always been searching in my life. But I didn't know that God was also taking part in this search," Federico, 37 years of age, confesses. "I became aware of this during the years that I was working, after studying Chinese at the University of Venice". He was a scout leader at Galeotta. "I joined as a nonbeliever and left a transformed person due to the service I gave the boys, desiring to follow the Lord. I had not only experienced the mercy of God, but also that I could love as I am. I felt the Society of Jesus was the right place. My teachers had always spoken to us about Matteo Ricci as a friend, a missionary willing to recognize what was good in their culture, without demonizing it and without pretending to have the whole truth in his pocket. Pages and pages of online jokes on the Jesuit website gave me hope to join a religious order made up of people full of humour and common sense".
He joined the novitiate in 2011, after spending a few months discerning in Bologna. He studied philosophy in Rome and spent the first two years of Regency in Albania, after having made a request to go to China which was refused. "My initial disappointment had given way increasingly to a passion for this land and for the Albanians, and to the joy of giving oneself to the young and the poor. Truly the Kingdom is everywhere".
He spent his third year of Regency in Genoa, then in Madrid for the three-year theology period. "Not only the studies but also the travelling, the pastoral experiences, the community life and the quantity of people I met are a wealth for which I give thanks". Now he is in Naples for a Licentiate in Biblical Theology. "I have just finished a lesson on the prophet Elijah. The ordination ceremony will take place in a few hours, and I hope to be the humanity of God, weak but similar to Him".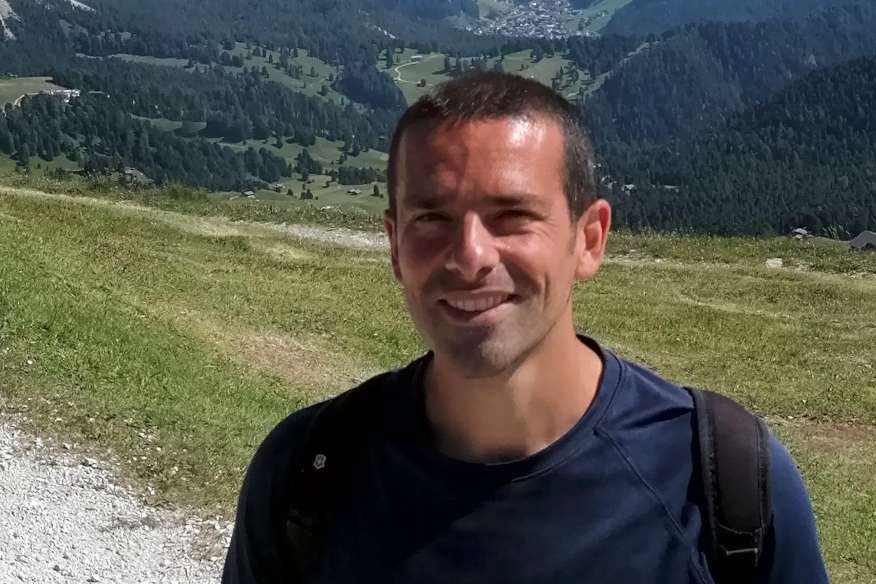 Born and raised in Rome, Guido, 44, is a graduate in Political Economy. He continued his doctorate in London and New York.
But it was in Rome that another desire surfaced. "Pulled by some friends to the catechesis on the Ten Commandments, I stopped to listen to a proclamation of the Gospel that addresses my desire for fulfilment, and which embraces my poverty and confusions".
Then in London, in a small parish in the centre of the city, he met "an extraordinary priest, Fr. Alan. Speaking to him, listening to his homilies and seeing how he interacted with people, I recognised the strength, intelligence and beauty of God's love. I began to wonder if this was the way for me too".
In Bologna, in 2011 he frequented Pietre Vive: "through the community experience and the proclamation of the Gospel through art, my question surfaced again. I became acquainted with the story of St. Ignatius, recognizing myself in the initial stage of his call: his passionate nature, his wound, the alternation of inner movements".
So, after spending 3 years in the seminary of Rome, in 2015 he joined the Jesuit novitiate, "these were providential years as I met the Lord and myself more deeply". For his Regency he spent two years at the Massimo Institute in Rome. "It was the brilliant intuition of the superiors to assign me above all to kindergarten, an experience completely opposite to my academic formation, but one of the most consoling. In relating "the stories of Jesus" to the little ones, I could notice all the tenderness and beauty of the story that the Lord wants to relate to us in our life! ".
Then he went to Madrid to study Theology. "I am grateful for what I learned there, above all, for the diaconal ordination, the experience of living within the Society and the friendships I made during the two years in Spain".
Finally, he was in Milan, for a Licentiate in Moral Theology, residing in the Community of Leo XIII. "I was fortunate to collaborate with various brothers in the school, in Villapizzone, Selva di Val Gardena and in the editorial office of the magazine Aggiornamenti Sociali. This increased my feeling of joy, of being the Lord's companion on a mission. I have received and continue to receive so much grace and mercy: I pray to put these graces more and more at His disposal. It is with this gratitude and with this desire that I receive the gift of celebrating the Eucharist and of being a minister of His mercy ".
The celebration was broadcast live on YouTube: