Welcoming refugees with open arms at the Gonzaga Campus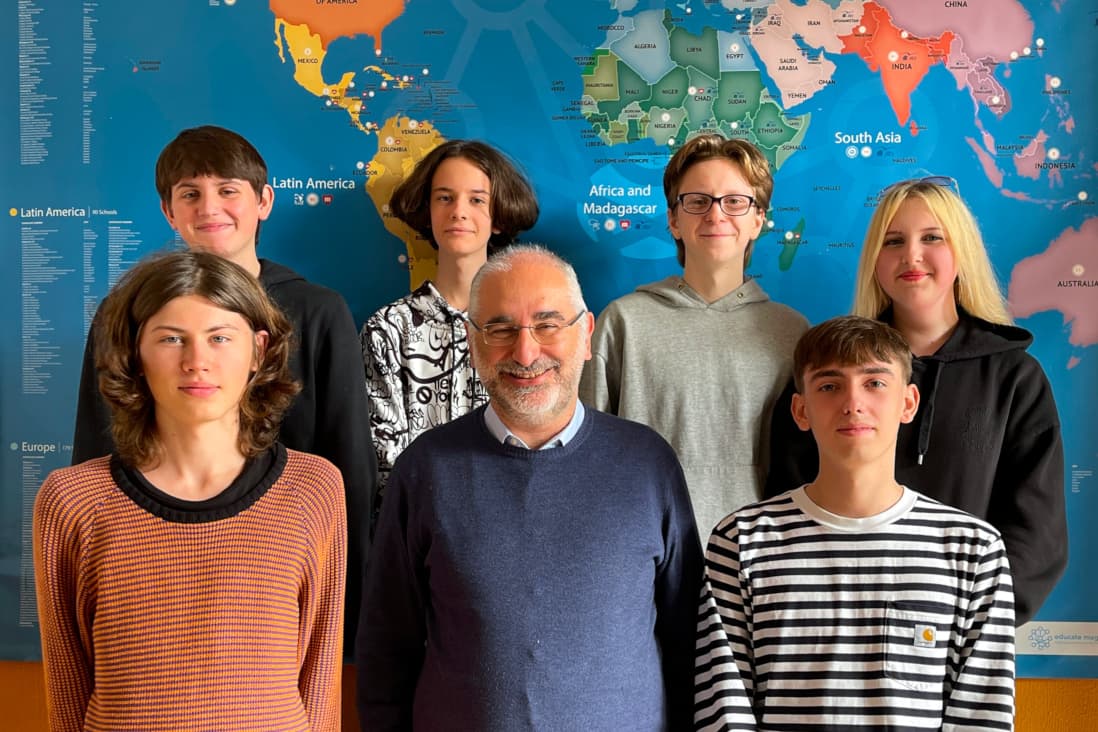 Twelve young refugees – Ukrainians, Syrians, Iraqis – have found a safe haven and the chance to continue their studies, by joining the Gonzaga Campus school and educational programmes (at the Kindergarten, the Primary School, the International School of Palermo, the Italian School for foreign adolescents and adults and the Polisportiva activities).
On 16 December – together with students, parents and teachers – a Christmas dinner of solidarity was organised, the highlight of which was an intercultural exchange of Ukrainian food and listening to some testimonies.
The number of students enrolled in the School of Italian Language and Culture for Foreigners, which is run by volunteers in collaboration with Centro Astalli, is also growing on campus.
"I arrived in Palermo in August, leaving my parents in Ukraine," Josephine says. She is a young Ukrainian student who is living with a family that hosts young people attending the Gonzaga Campus and who, in addition to the international school, attends the Italian School for Foreigners and plays volleyball. "A little more than a month ago, a new life really began for me with the family that is hosting me, where I am doing well. However, I am always thinking and worrying about my parents who have remained in my country. Fortunately, I contact them often. Everyone at school is being very helpful to us. I hope the war will end as soon as possible and that my country can be rebuilt and become as beautiful as Palermo. Thank you all because I don't feel alone".
"We already have two children, and we regard Josephine as our third child," the girl's foster mother says. "Immediately after the outbreak of the war, we offered our availability to welcome a minor refugee. Josephine told us that she and her family had taken refuge in the basement of the building. Her mother decided to stay with her husband. We know, unfortunately, that they have very little electricity even during this winter period. Both Josephine and the other young Ukrainians who have often lived with us are very strong and have a great ability to adapt to a completely new life situation. It is an experience that we are considering as a great gift and very rich on a human level, which also helps immensely our children's growth ".
The 12 Ukrainian children and young people welcomed at the campus are 8 adolescents, aged between 14 and 17, who have been placed at the Gonzaga International School Palermo where, thanks to the teaching of English, they are able to communicate more easily with their schoolmates and adapt quickly to their new school environment. The other four youngest, aged 3 to 10, were placed at the Kindergarten and primary school. They are joined by students from Syria and Iraq.
For Josephine, Daria, Danil, Danylo, and Sasha of Ukrainian nationality, leaving their home and, in some cases, both parents, was difficult and painful.
"Our school, thanks to its pedagogical and humanitarian commitment, does its best to help them live a serene life by guaranteeing their integration and a future of hope," Fr. Vitangelo Denora, general director of the Gonzaga Campus explains. "This is true for the Ukrainians as it is for all other young people coming from countries in difficult situations such as Iraq, Syria and the African continent. We felt a strong necessity to welcome them because they knocked on our door; these are small gestures of peace that we can put in action against the rhetoric of war. All over the Campus, the fundamental concept is that of the recognition and appreciation of all cultural diversities," adds Fr Vitangelo. "Our dream is to make the Italian school 'a third school' on the Gonzaga Campus, where its characteristic would be the integration and inclusion of the world's different cultures. Let us remember that the future model of a diverse humanity is precisely to have many cultures standing side by side without clashing. We are convinced that these stories are a gift for us; they enrich us and help us to recognise the other as a friend and not as a danger,' Denora concludes.
The funds raised at the solidarity dinner on 16 December will be earmarked for young people and families in Ukraine. After last May's missionary fair, two funds were established where all the money from fundraising campaigns are directed: an 'education fund' to donate scholarships to young people with few opportunities, and a 'solidarity fund' to support charitable and solidarity initiatives for various emergency situations.