Earthquake in Turkey and Syria. Bizzeti: "A tragedy within a tragedy". How to help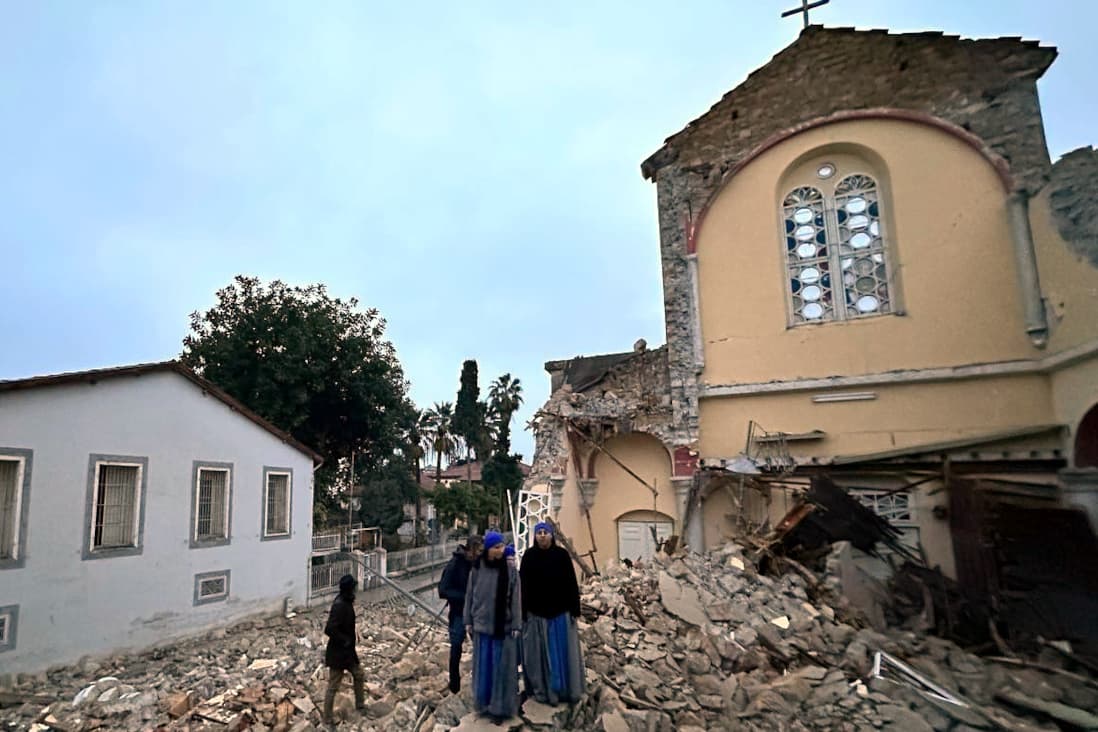 The earthquake also hit the cathedral of Iskenderun, seat of the Apostolic Vicariate of Anatolia, whose head is Bishop Paolo Bizzeti SJ, currently in Italy for official commitments. "The cathedral has completely collapsed, and the bishop's residence is also uninhabitable," he recounts in his interview with TV2000. There are also thousands of Syrian refugees in the affected areas. "A tragedy within a tragedy", he adds.
Here are the details for donations through the MAGIS Foundation, NGO of the Euro-Mediterranean Province:
bank account payable to FONDAZIONE MAGIS
BANCA ETICA – Via Parigi 17 – Rome
IBAN: IT61 E050 1803 2000 0001 1016 169
SWIFT code (o BIC): ETICIT22XXX
postal account N. 909010 payable to FONDAZIONE MAGIS
Reason for payment: Earthquake emergency in Turkey and Syria
Contacts for information:
Tel. +39 0669 700 327 – mobile. +39 371 183 38 80 371 183 38 80
E-mail: magis@fondazionemagis.org
Website: www.fondazionemagis.org
The collapse of the cathedral is impressive, just on Sunday I celebrated Mass there. Antuan Ilgit SJ, who has been on mission in Turkey since 2021 serving the Apostolic Vicariate of Anatolia posted on his facebook account. "But now it is the living stones that need attention, and with them and God's help we will be able to rebuild.
Together with a group of women religious, a focolarina and some Italian friends and many others we are trying to host a group of people. They are Catholics, Orthodox, Armenians and Muslims. We share what we have for today and perhaps for tomorrow. We are all in the refectory which is more comfortable where we also celebrated Holy Mass. I brought the image of Our Lady from the Cathedral. With her in our midst we will face everything.
We continue to trust in God and in his Holy Providence. It is raining, it is cold, and the tremors are strong. We feel that you are close to us and we are counting on this closeness. We also carry our beloved Syria in our hearts. May the Lord keep us in His love and be gracious to us".
From the Jesuit Refugee Service in Syria Tony O'Riordan SJ reports: "There are no casualties among our Jesuits and teams. The damage in Aleppo is significant. Many buildings have collapsed. People remain outside in the cold and rain, fearing a further tremor. We are busy out in the streets all day. Many will sleep in their cars tonight because they are still afraid to return to their homes.
Even our premises are not safe. We will offer a space to gather together at the Jesuit Monastery in Azazieh for support and company". The Jesuits have offered the space around the St Vartan centre to accommodate in a safe place those sleeping in their cars.