South Sudan: the last farewell to 'Abuna Bernard Victor'. His life was poetic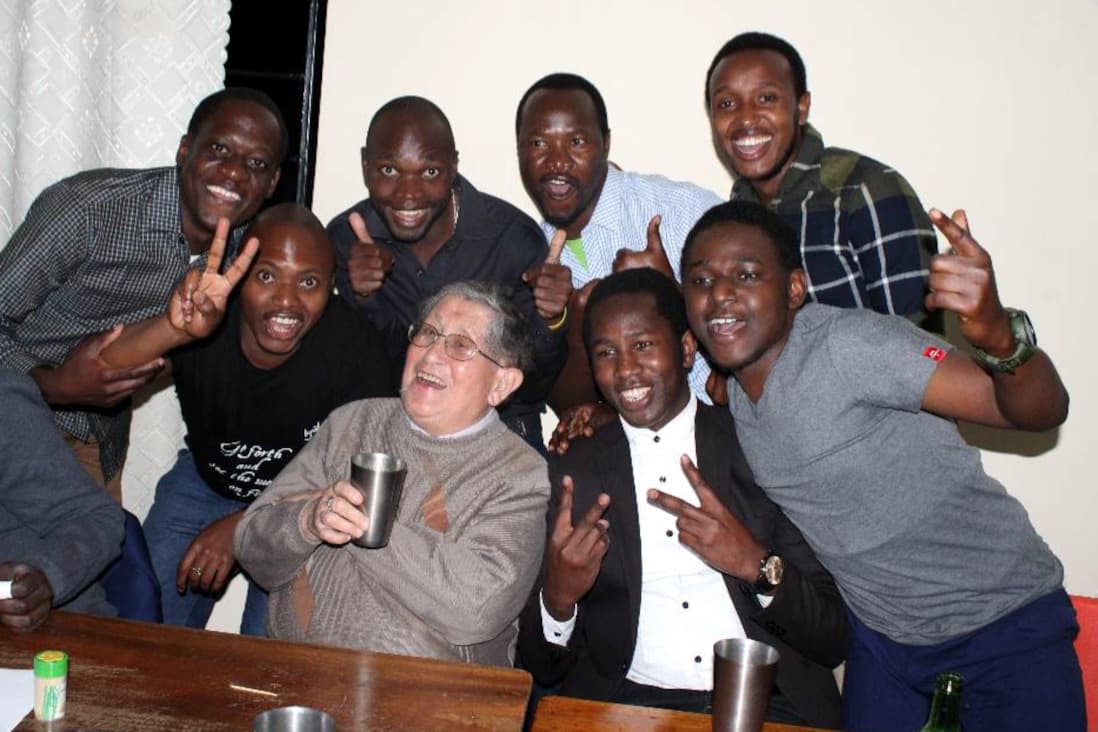 As Pope Francis left South Sudan to return to Rome, Fr Bernard Victor was also preparing to return home after 24 years in Sudan. He was 81, a Jesuit for 63 years and a priest for 49 years when he received his final call. "Abuna", everyone called him, an honorary title for a priest among the Sudanese and Southern Sudanese.
He was born in 1941 in Hamrun, Malta, into a family of ten siblings. His father, John Baptist, was a radio presenter of a Catholic programme, ministered to the sick and played the violin. His mother Lucy was a woman of great prayer and a pianist.
A time of trial
He joined the Society in 1959 in Naxxar, graduated in English Literature, studied Philosophy in the UK, then Theology in Leuven, Belgium, and was ordained priest in Naples. At the age of 20, he was diagnosed with a brain tumour. He spent three months in London where he underwent surgery and chemotherapy. He overcame this challenge which never shook his vocation and his trust in God.
Tanzania, Colombia, Sudan, South Sudan
He arrived in Africa for the first time in 1974, in Tanzania. He spent six months learning the language. Then he was in the parish of Ipuli, on the outskirts of the city of Tabora, as vice-parish priest and prison and hospital chaplain. He carried out his tertianship in Medellin, Colombia. On his return to Tanzania, he was sent to the Segerea Major Seminary in Dar es Salaam to teach theology. He was Parish priest in Dodoma, and then was sent to Juba to teach theology. He was the librarian at the Major Seminary in São Paulo and involved in pastoral work with refugees and in hospitals. In 1990, the major seminary was transferred to Khartoum and so he moved with it and there he built a library from scratch. He spent sixteen years as chaplain in the largest prison, giving assistance in parishes, celebrating Mass and preaching in Arabic.
In 2006, he was sent to South Sudan to St Teresa Parish in the town of Rumbek. He taught religion, was chaplain of the secondary school, and animated the liturgical life in the large chapel that belonged to the school. He was in Wau and finally in Arusha, the last destination of his mission on earth.
With young people, towards God, with the excluded
"His nine years of service in the novitiate were an experience of continual encouragement for his vocation as a Jesuit," Fr Binamungu Faustine Mukasa, Member of the East African Province says. "Every day he prayed the rosary while walking. He used to give many retreats to religious and Jesuit companions especially to the young ones who came to the novitiate for their annual retreat. He was available, celebrated Mass in St Bakhita's parish and was particularly committed to the children's Mass. He was confessor to many young companions, always available to the Daughters of Charity of Canossa, who were close to our novitiate and chaplain of their primary school.
Abuna was hard working and quiet but very jovial and would express his joy at meeting companions with visible excitement. He was humble and served with love and commitment.
Ready for any mission. Love for his community
Despite his advanced age, he participated in all community events: prayers, birthdays, meetings, outings. He was also a talented musician and poet, and spoke Maltese, English, Italian, Spanish, Kiswahili, French and Arabic. He was kind and helpful and radiated positive energy. He was very obedient, as shown by the variety of missions he received during his life as a Jesuit, as he was always ready to go wherever he was sent. Abuna was a true missionary, ready to do anything for the mission entrusted to him".
Sharing his experience of God through poetry and music
He was known for his sharp mind, despite his advanced age, and for his reading. He composed many songs and poems, for ordinations of his brethren, for days of thanksgiving, and liturgical feasts. Three collections remain: All for free, He shone through bright as day, St. Ignatius of Loyola. They recount his love for creation, his gratitude to God and St Ignatius, his desire to fathom the depths of his heart. His Maltese translations of the songs of the St Louis Jesuits are still popular. In everything he expressed a deep personal experience of faith, hope and love that he transmitted to all who knew him.
Admitted to the Coptic Hospital on Thursday 2 February, he passed away on Saturday 4 February. He returned to the Father's house just after the celebration of the Feast of the Presentation of the Lord, the World Day of Consecrated Life.
This is what he wrote in one of his poems:
…..We cannot wait to go and tell the whole world that
The sun of peace and justice that will surely last
Has dawned, banishing all our shadows.
For in the Child we can all put our trust
That from the dust
The poor will rise
And like him on the cross and in glory
All will cling to him.