Andrea Picciau SJ
The desire for life, true life
I had many desires, many dreams, and I did not think that faith could allow me to fulfill them. Then, I met a group of young people, new friends. It felt like being born again.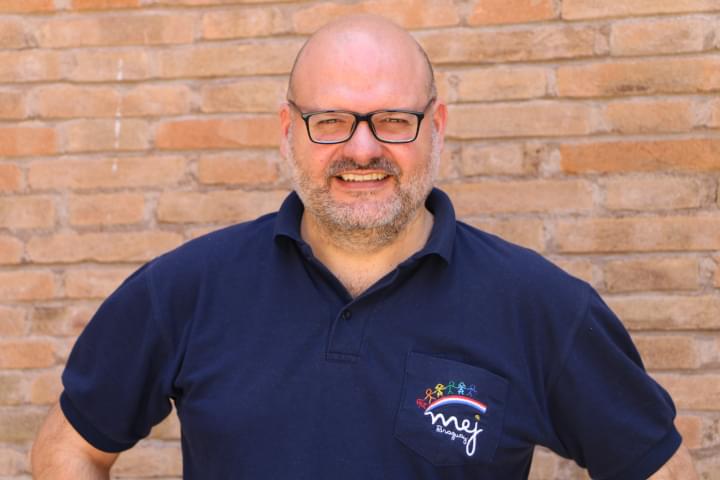 I was born in Sardinia in September 1974, in Elmas, a very small town near Cagliari, where the island's main airport is also based. The roars of the planes, taking off and landing a few meters from home, have accompanied 25 years of my life. As a child, I loved to watch them, especially at the take-off. I would watch them in the sky, until they disappeared in the clouds and there was nothing left for me to do, but imagine where they would arrive, and dream of leaving. With my nose in the air, I would wave to them. I was convinced that some of the passengers could see me.
The nobleness and beauty of simple things
My family is as simple as the place where I grew up. My parents, fruit and vegetable sellers, worked all their lives to give, me and my brother, a respectable future. They taught me the meaning of sacrifice, hard work, honesty, respect for others, attention to money and things. My cousin, my peer, my playmate and everything else, taught me friendship. Few books. The nobleness and beauty of simple things, the deep, heroic faith of my mother, the sensitivity of my father, have built in me the experience of God. Indelible.
I attended compulsory school in my hometown and then graduated, as a building expert, in a technical institute in Cagliari. The years of high school were also years of work for me. After a few months, I started to give a hand in the family business. I took turns, with my brother, to wake up early, in the morning, to "go with dad to the market" and, then, to school. A lot of hard work. The days passed between the market, school, soccer and friends. The summers, unforgettable moments of pure enjoyment, in a family house by the sea. I left the Church quite early. As a teenager, after my confirmation, I soon realized that the soccer field was considerably more interesting and attractive than the Sunday liturgies. My friends had long since stopped going. I didn't even have to choose.
The search for a new meaning
I wasn't missing God. My heart was taken by something else. I had many desires, many dreams, and I didn't think that faith could allow me to fulfill them. Things changed after my first year at university. I had chosen civil engineering. I would have liked to study architecture, I liked to use my imagination rather than the calculator, but that faculty didn't exist in Cagliari, and my parents couldn't afford to let me study elsewhere. I then went through a difficult period. In my family, in my studies and even in soccer, which had always been my great passion. Everything seemed to turn against me. My dreams did not seem to be as easily attainable as they once were and not as attractive. I began to search for a new meaning to my existence. I started to do what I have never stopped doing and what still guides me today: looking for life. True life.
An unexpected encounter
I again met the Lord of life in an unexpected way at a meeting of the Spring Community of the Catholic Charismatic Renewal. For the first time, after so long, I had the impression of breathing again. In that room I felt that I had rediscovered something important. But, only slowly, did I get closer to the sacraments. I began to attend the Marian Youth Movement of the Jesuits. Father Giovanni Puggioni, the leader of the movement, a man of exceptional faith, helped me a lot on my way to a new understanding of the Lord. He had simple words, always the same, and yet so beautiful. Within the movement I met a group of young people. New friends, new environment, new life. An explosion: I have no other words to describe that period. I felt like I was being born again. The new life was made up of different experiences, but connected by one common denominator: Jesus. The thirst to know Him in a deeper way grew more and more.
The strength of witness and the emergence of desire
Not long afterwards, two young men from the Marian Movement decided to enter religious life and spoke about their choice at a meeting of the movement's animators. I accompanied them to the airport. I discovered myself envious. I too would have liked to find my own way, like them, where I could dedicate my whole life to God. I longed for religious life. I wanted to be a priest, to tell people about the Lord I had met. I thought of the young people, of my friends who had not yet known what I had discovered. I didn't want to be a parish priest. I longed for an intense, radical community life. The Society of Jesus was not in the cards. I was very hesitant. The path was not at all clear. I needed help. That was how I met Fr. Armando Ceccarelli who accompanied me in those years of discernment.
A way: the Society
A few years passed in which I continued to study and work, continuing with all the activities I had begun. Slowly the desire to be a Jesuit made its way to me. I also wanted to be like these fathers, simple, with free looking eyes, able to speak to people about God, to know the heart of men and guide them to God. The thought that I could be a companion of Jesus filled my heart with consolation. Great enthusiasm. Another year of various experiences to broaden my horizon on the Society and then finally, in October 1999, I boarded that plane that, as a child, I had watched disappear into the clouds. Destination: novitiate in Genoa. As a child, I had never imagined that this would be my destination. Actually, the journey had just begun.
Formation and mission
After the novitiate, I went to Padua to study philosophy and then to Albania for two years of Regency, when the regents were still animators at the Minor Seminary of Shkodra. Theology in Naples in the small Community of S. Barbara, in Cavalleggeri, where I was ordained Deacon with 3 other companions. Then I went to Rome, San Saba, for a Licentiate in Biblical Theology at the Gregorian. Important, intense, at times very difficult years. So many people, a new world, a much desired, but, ultimately, unknown life. I learned a lot. Much I received.
In my first year in Rome, I was ordained a priest at the Gesù, in Rome. I began a small collaboration in youth ministry at the parish of San Saba and, occasionally, went to Pescara to accompany the formation of Eucharistic Youth Movement (EYM) leaders and to participate in the Regional days, while, in San Saba, I gave a hand for some practical matters to Fr. Loris Piorar, National Director of the Movement, a brother and a friend to me. It was just a way to live my "apostolate" during my study time. In my heart I felt that I was not in my natural place. I had lived all my formation thinking that I would, then, have to commit myself to the Spiritual Exercises. I dreamed of a house for Exercises, with everything that revolved around it. The Lord had thought otherwise. At the end of my studies, I was sent to Pescara as Regional Director of EYM and I fell in love with the young people. To be honest, I don't know what happened in my heart, but in contact with the many young people of EYM in Pescara, I rediscovered something very profound that ten years earlier had led me to choose the Society of Jesus: working with young people; spending my life with them and for them. This is how EYM entered my life and brought me back to the origin of my vocation.
Life for and with young people
I lived with great passion for five years in Pescara. So many young people, so much work. So many encounters. A very big reality that surpassed me continuously. The communities were becoming stronger and new EYM communities were being born. In a few years, something very beautiful exploded, which is also the fruit of a new wave of vitality that involved the Movement widely in other regions. In June 2016, I was appointed the new National Director of EYM. Great joy, but also great responsibility. After a few months, I left for Tertianship. I lived for six months in Nairobi, Kenya, a precious time of intimacy with the Lord, of re-reading my life and of contact with the poorest, that brought me back to the taste for simplicity. I rediscovered something of life, true life, that I still haven't stopped looking for. Back in Rome, I resumed my assignment as National Director. Many young people are waiting for me, I am on my way, the plane is still flying, happy.