Zef Bisha SJ
That freedom built up stone by stone
After the collapse of the regime, I too went to help rebuild our little church. Giving shape to a place that had become a dump. Those stones have marked my life.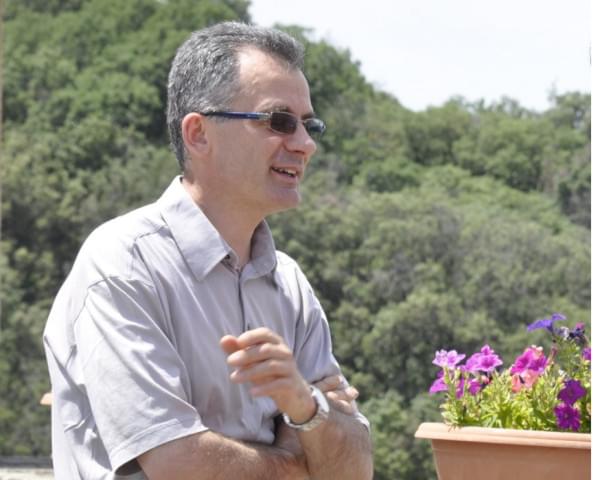 My vocation? I owe it to my parents. Every day, before going to sleep, we secretly recited a prayer, to ask Jesus for forgiveness. In secret. Praying was not allowed under the communist regime.
After the collapse of the regime, I, like many others, went to help rebuild, stone by stone, our small church, dedicated to St. Nicholas. It was so meaningful, to me, to give new shape to a place that had become a dump. Masonry work: stones that have marked my life.
Service, admission to the Novitiate and the encounter with the Society
Then, the encounter with the Sisters and the priest who came to celebrate services in the newly rebuilt chapel. I began to help them in the service around the villages. In 1994, I entered the seminary and continued to help as an interpreter and as much as was needed. I could sense, however, that something was missing. I couldn't express it, but I wasn't fully happy. It was Ray Pace SJ, my spiritual director, who helped me understand what was going on in me. In the summer, I was oriented to an experience with a "Project Hope" group, led by Fr. Massimo Nevola SJ. It only took a few days to experience something different, the way he was and worked. I felt welcomed, I fully tasted the spirit of service and friendship that one could breathe. That is why I asked to enter the Society of Jesus. Then, a time of discernment of desires and acquaintance with the Society, with myself, in order to place everything in God's hands.
Mission in Albania
Building the Church today is a continuous conversion. In Albania we also experience the presence of different confessions. The stones are no longer the same as they once were. The liquid reality, that has invaded us, leads us to forget who we are. We often have the impression of sowing in vain. Never tire! Let us form the men of tomorrow to freedom.